add to favorites
add to wish list
They Say...
The evaporator of the Panarai series now available in a longer version. 
Specially made for us 510er evaporator for dropping or as a bottom feeder. Pruduktion is strictly followed by us and produced by us only selected materials from Germany. Materials such as glass fiber and filament from Germany.
Ohm tolerances are hardly available here. It also fits perfectly with the UFS UFS or clone
Measured length without mounting: 37.5 mm
Build quality ( 11 )
Ease of setup ( 11 )
Performance ( 11 )
Price ( 11 )
Availability ( 10 )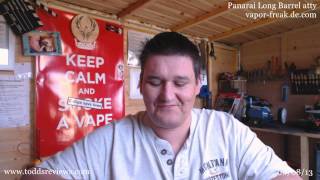 Date posted:
They say
Just bought this as part of a group buy on UKV, hadn't heard anything about it until then but having watched Todds review I'm really excited
They bought it from
VaporFreak.de
Paid
€7.90
Their setup
Will be going on a mech pipe

 

Device information

Made by
Panarai
Atomiser type
Dripper or bottom feeder
Tank Type
None as standard, can be used as a bottom feeder
Wick
Silica fillament
Aimed at
Experienced Vaper
ONLY LOGGED IN MEMBERS MAY WRITE REVIEWS
Click one of the buttons below to log in or register and leave a review.