add to favorites
add to wish list
They Say...
The Rose is a very special device for connoisseurs. The Rose's feature list is unique. No atomizing device available today can offer a feature rich list as comprehensive as The Rose.
Main Characteristics:
  ·  
Material: Stainless Steel Type 316 (half tank is made of clear acrylic with a spare Stainless Steel 316 half tank)

  ·  
Diameter: Ø22mm

  ·  
Length (including drip tip and connector): 79,5mm

  ·  
Length (excluding drip tip and connector): 54,5mm

  ·  
Wick type: Silica rope

  ·  
Connector type: 510 (M7x0,5mm Pitch)
  ·  
Tank Capacity: 3.7ml
Special Features:

  ·  
Single coil or dual coil configurations – Single coil with 2 wicks or 2 coils with a wick each

  ·  
Airflow control ring – Fully open will offer a Ø1.5mm hole for airflow

  ·  
Juice flow control – By turning the drip tip, you can adjust the flow of juice onto the coil

  ·  
Ceramic coil cup – You can choose to not use the coil cup if you prefer

  ·  
Re-coiling without emptying tank – Simply invert and unscrew the coil head assembly for re-coiling

  ·  
No resistance wire not needed – Careful attention has been made to the ease of setting up a coil in The Rose

  ·  
Inverted or regular e-juice filling – Either remove the coil head or the top cap to fill with your favourite e-juice
Build quality ( 10 )
Ease of setup ( 7 )
Performance ( 9 )
Price ( 8 )
Availability ( 9 )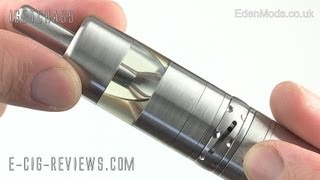 Date posted:
They say
They bought it from
Paid
Their setup

 

Device information

Made by
Eden Mods
Atomiser type
Silica
Tank Type
3.7ml, Acryllic / 316SS
Wick
Single / dual coil
Aimed at
Connoisseur
ONLY LOGGED IN MEMBERS MAY WRITE REVIEWS
Click one of the buttons below to log in or register and leave a review.