add to favorites
add to wish list
They Say...
The Z-Atty Pro is designed specifically for use with a ProVari, but is functionally the same as other Z-Atty models.
I have only used my Z-Atty Pro with ceramic wicks. It comes from the supplier with a preinstalled ceramic wick and a Kanthal coil, ready to vape, and this is configuration I have continued to use.
I consider the Z-Atty Pro to be in the same vein as a great cigar; for times when you want to sit back and relax and enjoy the very best vaping experience possible.
There is a learning curve to properly use this atomizer. It must be tilted to near horizontal to facilitate juice flow along the wick, and it requires a very slow even draw. When done properly, it one of the most flavorful and enjoyable vapes you can imagine. However, if draw to hard, forget to tilt the device, or try to use it like a normal PV, you will likely be very disappointed.
The ceramic wicks are amazing with a clean pure flavorful vapor production. And rebuilding is a simple process that any new user could easily master.
For the intended purpose and when used with a ProVari, this atomizer is an outstanding investment in exceptional vaping.
Build quality ( 0 )
Ease of setup ( 0 )
Performance ( 0 )
Price ( 0 )
Availability ( 0 )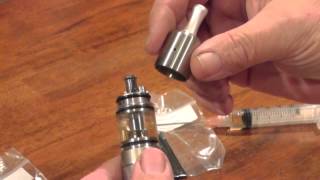 Date posted:
They say
Superb Genny-style RBA
They bought it from
ProVape.com
Paid
$140
Their setup
ProVari 2.5

 

Device information

Made by
House of Hybrids
Atomiser type
Genesis
Tank Type
Glass
Wick
Ceramic, mesh, silica, cotton, or any other
Aimed at
Experienced Vapor
No ratings yet, be the first to review this atomiser
ONLY LOGGED IN MEMBERS MAY WRITE REVIEWS
Click one of the buttons below to log in or register and leave a review.